I've been seeing these vintage inspired ribbon bookmarks everywhere and had planned to make some for Mother's Day as a tester, but I ran out of time.
Here's my inspiration: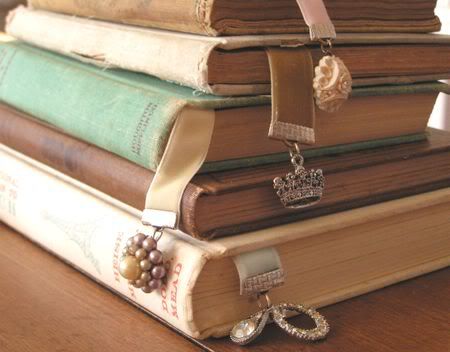 I busted some out yesterday and this is how they turned out:
Bear with my POS camera, but these are my first three "testers"
The end charms are too long, so I think the next round will have shorter embellishments. I need to start stocking up on vintage jewelry for the baubles at the ends.
Cute, but I'm thinking not as functional too have such long charms...
But it does make for a cute display like this just sitting on a shelf, in a bookcase or on a table!
This is the other end of the bookmarks which I think has a more appropriate size. Maybe this end will just receive a silver ball.
Velvet ribbon has been proven kind of difficult to find. I think I may try some with a burlap type ribbon next. I want to make a few to lay around the house....
Happy Sunday
-jd